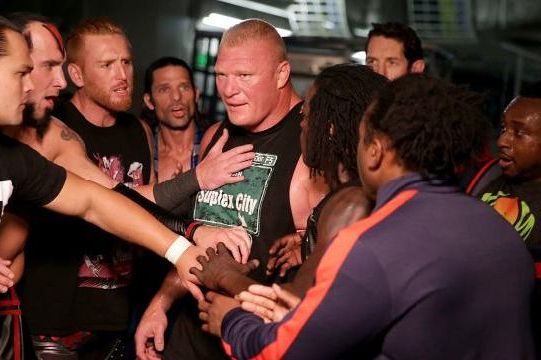 The Undertaker's twilight has been an interesting one, mainly because of Brock Lesnar.
It was Lesnar's victory at WrestleMania XXX that changed Undertaker's streak from a sure thing that fans took for granted to a dark cloud that follows him into the ring. In the previously unfathomable post-Streak era, every time Undertaker competes, there's a legitimate question as to whether we're seeing him for the last time.
Should Lesnar and Undertaker resume their rivalry at WrestleMania 32, it would be a fitting final match for The Deadman. As mentioned on thePodNasty Wrestling Podcast, it's also a match he should lose.
Undertaker vs. Lesnar at SummerSlam could have gone either way. This was one of the elements that made every pinfall exciting—a far cry from the token pinfalls at WrestleMania that everybody assumed Undertaker would kick out of during The Streak.
After a series of underhanded tactics against Lesnar, Undertaker has been painted as an uncharacteristically desperate man. Low blows, phantom tapouts

—i

t's as if he knows his time is running out.
This creates the perfect narrative for Undertaker to go into an eventual WrestleMania showdown against Lesnar and take his second WrestleMania loss in three years.
Undertaker's string of 21 consecutive wins at WrestleMania was so iconic that there is still shock value in another potential WrestleMania loss. That means Lesnar would stand to benefit if he were to defeat Undertaker at next year's event at AT&T Stadium, which would be much more beneficial than another Undertaker victory
Lesnar is still a focal point of WWE. In addition to limited pay-per-view appearances, he has been the main attraction for live specials, including the recent Beast in the East show on July 4 and an upcoming showcase in Madison Square Garden in October.
The WWE still has a lot of money to make with Lesnar—not to mention the money the company is paying him to make limited appearances—and he will only be a bigger asset if he returns to his winning ways.
Prior to Lesnar's loss to Undertaker, Michael Cole trumpeted that The Beast Incarnate had not been pinned or submitted in almost two years. Though the stat comes with an asterisk, it's the type of promotional hype that only makes Lesnar a more potent attraction to raise interest in live events, WWE Network specials and pay-per-views.
Losing to an aging, desperate Undertaker for a second consecutive time would not fit the current narrative. Lesnar has been established as the more dominant competitor in their last two contests, with only controversy stopping him from extending his unbeaten streak against Undertaker.
But to lose yet again would raise questions if both Undertaker andLesnar are losing their cloaks of invincibility.
It's no secret that Undertaker approaches professional wrestling with an old-school sensibility both in and out of the ring. His supernatural gimmick is the last of a dying breed. In addition to his on-screen persona, Undertaker also strongly believes in time-honored wrestling philosophies.
During Steve Austin's live podcast with Vince McMahon last year (h/t Nick Schwartz of USA Today), McMahon praised Undertaker for his willingness to give back to the business: "No one wants to give back to the business more than The Undertaker, more than Mark Calaway. And he knew that it's important to give back to the business. There comes a time in which it's time to do that."
Austin's scenario of Undertaker's swan song seems to be in line with these sentiments. Speaking with Matt Fowler of IGN.com heading into SummerSlam weekend, Austin gave his prediction for how the feud will play out: "I think it's (Undertaker's) turn (to win at SummerSlam). And if you go that way, then you can take the rubber match to WrestleMania, and then Brock goes over and Taker rides off into the sunset. That'd be my prediction."