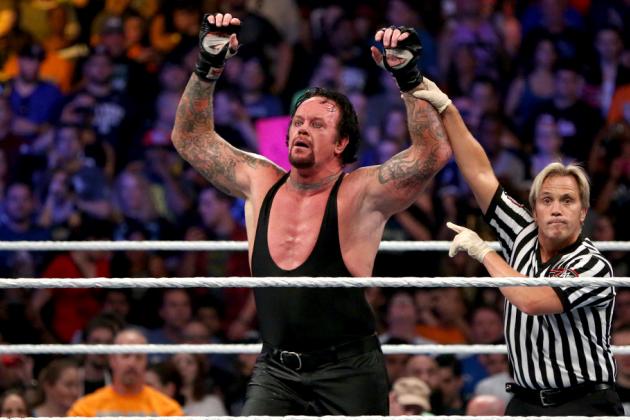 The Undertaker vs. Brock

Lesnar

at

SummerSlam

did not end with a standing ovation or a
celebration in honor of a hard-fought match. This one ended with surprise, bewilderment and real controversy as Taker tapped out yet still won in the end.
While fans attempt to make sense of it all,

WWE

moves on, and this feud will see yet another chapter written.

SummerSlam

has expertly set up a third match between The

Deadman

and The Beast Incarnate.
Many likely believed

SummerSlam

would be the end of this one.WrestleMania 30 saw the first part of this storyline, and

SummerSlam

was supposed to be the follow-up, the night to right the ship for Undertaker.
He would get the win, have his redemption and walk away with his head held high.
But that win has been tainted by the

tapout

that referee Charles Robinson did not see. Undertaker went from being the cagey veteran who wouldn't say die to being the cheap-shot artist taking the easy way out. By all rights, The Phenom has turned heel.
However, this was perhaps the best way to keep their rivalry going. Now fans are getting more than just a nice feud with a cliched ending; they're getting a dramatic twist and a reason for the heat between the two to continue.
The fact is that two matches would never have been enough for Undertaker and

Lesnar

. There was too much intensity and too much bad blood to believe one more match was not needed to wrap things up. The two men proved they can still tell a compelling story, and that story will be told as only they can.
The question of where this will go is an interesting one. Unlike other

WWE

angles, this one has not been a case of heel versus face, or it's not really being adhered to all that much.

Lesnar

was the company's top protagonist when Taker returned, which should have heeled The

Deadman

out.
But Undertaker gave

Lesnar

a low blow, and he was cheered for it.Another low blow occurred on Monday Night Raw, and it was repeated yet again at

SummerSlam

.

WWE

has never taken the stance that Taker did anything wrong, and even the commentary team has not put over the fact that

Lesnar

has been screwed over.
But it cannot be said that

Lesnar

is fully face right now, as he has done nothing to truly endear himself to the crowd, other than smile and soak in the fans' adulation. He is still the same monster he ever was. Perhaps that is the key to this rivalry.
Undertaker vs.

Lesnar

is no longer about right and wrong or good and evil. It's about two warriors doing everything necessary to keep fighting, to keep the war alive for another day. It's less about pro wrestling and more about a fun, action-packed movie with two antiheroes as the main characters.
This is a straight-up fight, and that fight is not over yet.
Undertaker had no answer for

Lesnar

's challenge on the August 24 Raw. But The Beast will not let it go, as the two men will ultimately cross paths again. That could happen at Night of Champions or Hell in a Cell, where they could compete in The Cell itself. That is the level of intensity involved here.
WWE

may let this rivalry simmer for a while, but if so, it can't for long. The momentum that increased at

SummerSlam

must be maintained as the controversy unfolding merits more attention from the company. There are too many questions and too much drama keeping this angle white-hot to just stop now.
he fans must be hooked, they must be on board with the storyline, and the only way to ensure they emotionally invest is to keep it going. If interest is lost or if either side suddenly goes silent, then all the work done to get this angle over thus far would have been for nothing.
This one needs a satisfying ending. The

Deadman

must fight back against the demons haunting his career, and

Lesnar

is surely one of those demons. Taker must purge The Beast from his path, and the best way to do that is to beat him convincingly and leave no doubt about which fighter is the better man.
Despite the darkness and rage that has permeated this storyline, it really all comes down to who's better.

WWE

is a contest of wills, of a Superstar fighting to rise to the top with the

backstory

of what that man or woman will do to achieve great heights.
It's all about proving who the man is. Undertaker and

Lesnar

are each fighting to do just that.
One more match will determine who has true bragging rights. If the first match was a battle and the second match a war, then the third match will be Armageddon. This could be the most vicious and most violent bout in the careers of both men, and the drama is only just beginning.
sourse :http://bleacherreport.com/articles/2554146-undertaker-vs-brock-lesnar-crazy-wwe-summerslam-ending-sets-up-rubber-match